Jean-Baptiste "Django" Reinhardt
( Liberchies , 23 January 1910 - Samois-sur-Seine , 16 May 1953 ) was a guitarist jazz Belgian , an ethnic Sinti .

After a long wandering in various European countries and North Africa, his caravan stopped on the outskirts of Paris , a city that was the scene of almost the whole career of the Belgian jazz musician. When he was only eighteen years old Reinhardt, who had already started a career as a popular banjo player , suffered a serious accident. The caravan family was devoured by fire, Django suffered severe burns, so as to lose the use of his right leg and part of his left hand (the ring and little fingers, destroyed by fire, were welded together by scarring). This incident was to change his life and the history of jazz guitar. In fact, because of the injury to his left hand, Reinhardt had to leave the banjo and began to play a guitar that had been given, less heavy and less rough.

Despite the atrophied fingers, or perhaps because of them, developed a revolutionary guitar technique and distinctive that still stunned and arouses admiration for the skill virtuosity, vitality and originality of expression. He was able in this way to win the handicap. In a short time he was already in business with various orchestras who went to France and from there shortly to become a guitarist unparalleled, unrivaled. To date, his impressive discography surprising and confusing, as a composition, guitar technique, and the harmonic solutions sought, advanced for that time.
In the mid- thirties , Reinhardt and violinist Stéphane Grappelli formed a quintet of only string instruments , called Le Quintette du Hot Club de France which soon became famous thanks to the support of the ' Hot Club de France , one of the first associations promotion of jazz in Europe. In the wake of this success Reinhardt turned out to be one of Europe's most talented musicians in traditional jazz. The music of the quintet was exciting, now loads of tension, now light, almost ethereal and you had the impression that the musicians, improvisation, as if they were playing in front of the score. All with a rhythm (the pumps) and perfect synchronization as a "Swiss watch". Immediately after the Second World War , was invited to the United States by Duke Ellington , who introduced him as a guest in some concerts, the last of which at Carnegie Hall in New York .

With the advent of bebop Reinhardt gave further evidence of maturity and artistic originality, recording songs with memorable electric guitar: poetry Manouche, blended with modern sounds, makes these solo one of the most original of the jazz era. Famous engravings Club St. Germaine in 1951 and the Paris session of March and April 1953. After the American tour with Duke Ellington, from 1946 onwards, he wanted to reassert itself as a jazz guitarist, be a reference to the international scene like the great jazz-man Americans. Songs like The Fleche d'Or , Crazy Rithm , Brazil , September Song , show a large domain of the jazz language as well as a good familiarity with the new technical means, especially the amplifier at that time (1950) was quite recent.
Reinhardt significantly slowed his activities during his last years, perhaps even for poor health, his decision not to consult doctors for fear of injections, it cost him his life. Reinhardt is remembered both as a great virtuoso of his instrument, both as a composer fertile. In addition, many legends in the jazz he described the peculiar mindset . Among his most famous songs: Minor Swing , Manoir des mes reves , Tears , Nagasaki , Belleville and especially Nuages ​​.
There are many guitarists who are directly inspired by Reinhardt and have formed a veritable school of guitar gipsy jazz : Bireli Lagrene , Angelo Debarre , Stochelo Rosenberg , Tchavolo Schmitt , Fapy Lafertin , Romane , Dorado Schmitt , Nicola Turriziani are just a few the most famous names. Under proper Jazz guitarists such as Jim Hall, John Scofield, Wess Montgomery, Rene Thomas and Jimmy Raney, just to name a few, have been influenced by Django Reinhardt.

Different but still effective was the inspiration that Tony Iommi , guitarist of Black Sabbath , caught by Django Reinhardt: British guitarist, still at the beginning of his career, suffered the loss of two fingers of his right hand after a serious accident had factory while working on a press. But just when the discomfort and the idea to abandon forever the guitar and the music were taking over, he was given a record of Django Reinhardt. Once you become aware of how the Belgian guitarist could play so well despite the severe impairment in hand, Tony Iommi found the courage and the determination to start playing the guitar.Some observations about the known facts.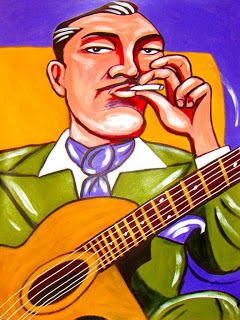 Commemorative plaque of Django Reinhardt in Samois-sur-Seine ( Seine-et-Marne ).
1928-1929
Immediately after the fire the caravan , Django Reinhardt, still very young, firmly refused the amputation of his left hand and right foot and, luckily overcoming the risk of gangrene that lay ahead (in the same spirit that years later cost him his life) spent long convalescence in bed to invent a technique that allowed him to play the guitar with the use of only two fingers of the left hand (index and middle) with the thumb grip the handle.

As Stéphane Grappelli told recently, Django took years to learn how to lead above the keyboard ring and little fingers, finally united and semi-atrophied to integrate rhythm parts on the first two strings. This limitation, however, is considered a prodigy, if you think that his hand was saved thanks to surgery desperate with the terrible anesthesia in chloroform (of which more later died the great guitarist Eddie Lang ), and a self-imposed re-education during the convalescent hospital for eighteen months.
According to the musical tradition of this incident lead to the development of a technique for its part is now mastered by any real guitar manouche : the "roll of the chromatic scale" with a single finger. This technique involves the execution of a chromatic scale (in which all the notes are played in ascending or descending order) with the same finger dragged across the keyboard in perfect sync with the Picking.
The influence
The original style of Django Reinhardt, acclaimed by musicians of all kinds as a brilliant and innovative, developed into reality in a life of immersion among the largest traditional Gypsy, and was affected by its vast culture in classical music, as reported Boulou Ferre . If it is true that he was the first gypsy to know the glory reserved for the most popular musicians, and the first out of the crib with the French jazz ' Hot Club de France with Stéphane Grappelli , was one of several in the microcosm gypsy worthy disciples of musicians historians.
It is also because of the reputation achieved that today is considered a hero by gypsies . Improvisation, even on songs heard for the first time, is the basis of the musical spirit of Manouches , and improvisation was just one of the features that contributed to shock even the professionals who attended his performances. Stéphane Grappelli , a violinist innovative , the protagonist of the '20s from musette to ragtime , fell in love with the spirit that saw all the instruments as soloists and sometimes potentially capricious.
One day, during a jam session (session improvised), he was asked if he thought Eddie South (the famous violinist) had studied music. Stéphane Grappelli said, "Yes Too." It seems odd to those thanks to an ongoing study was able to perform songs from all genres, and for someone so fine-looking, yet he too had lived the life of a wandering, playing in the street and in the courtyards of restaurants, and debuting in the bustle of the foxtrot . You can add two more notes to try to understand this affinity: Django, while still being able to understand, dismantle and transform any music, not only did not know how to read or write a simple score, but it was completely illiterate. Being very vain, he asked that Stephane Grappelli taught him to write his name in order to be able to sign autographs. One day, while the quintet played cards, Django and Joseph (one of his brothers with him in ' Hot Club ) listened Stéphane Grappelli , the second guitarist Roger Chaput and bassist Louis Vola discuss musical scales. After a while he turned to Django Grappelli candidly, asking curiously, "What is a ladder?".
Despite this apparent distance, Stéphane Grappelli declare later that listening to Art Tatum , one of the best known jazz pianists of all time, helped him to play with Django expanding its perspective.
The experience of the Quintet of the Hot Club was born in the French music, where in those years were either classically trained musicians, black musicians migrated from America and gypsies from all over Europe ( gypsy , gypsies , Manouche ... ). The same happened in some areas of the United States, such as New Orleans , where the quintet found a second home.
What is perhaps the most famous American banjo player at the time, Eddie Lang , was actually Italian (his name was Salvatore Massaro). According to music critics, Django is not one of the "fathers" of jazz, which at the time had admirers and collaborators such as Delaunay and Ravel .
It has long been debated whether the music of Django Reinhardt was or was not jazz and nowadays most of the critics are unanimous on the fact that his music is strictly jazz, and even a particular type of Jazz, the European with gypsy influences, classical and Central European tradition.
In the culture of gypsy , people are designated only by nickname. Today there are Bireli Lagrene, Stochelo Rosenberg , Tchavolo Schmitt , but this is just a result of the popularity achieved by these guitarists. In the gypsy no mention of "Django Reinhardt", but only "Django".
In older records his name was written as either "Django" or "Jeangot", the reading of which is very similar to a French (in fact leggendosi "j" g as a very sweet, typical of the French, "dj" says almost like a "g" sweet Italian), and never is "Jean Baptiste Reinhardt".
Woody Allen in his film Sweet and Lowdown (original title "Sweet and Lowdown"), deliberately made ​​a portrait of the protagonist in perfect agreement with the biography of Reinhardt, inventing life and saying that he was second only to Django.
Discography

1945 Paris 1945
1947 Ellingtonia – with the Rex Stewart Band – Dial 215
1949 Djangology
1951 Django Reinhardt and the Hot Club Quintet
1951 At Club St. Germain
1953 Django Reinhardt et Ses Rythmes
1954 The Great Artistry of Django Reinhardt
1955 Django's Guitar
1959 Django Reinhardt and His Rhythm
1980 Routes to Django Reinhardt
1991 Django Reinhardt - Pêche à la Mouche: The Great Blue Star Sessions 1947/1953
1996 Imagine
1997 Django Reinhardt: Nuages with Coleman Hawkins
1998 The Complete Django Reinhardt HMV Sessions
2000 The Classic Early Recordings in Chronological Order (5 CD boxed set)
2001 All Star Sessions
2001 Jazz in Paris: Swing 39
2002 Djangology (remastered) (recorded in 1948, discovered, remastered and released by Bluebird Records)
2003 Jazz in Paris: Nuages
2003 Jazz in Paris: Nuits de Saint-Germain des-Prés
2004 Le Génie Vagabond
2005 Djangology (Bluebird)
2008 Django on the Radio (radio broadcasts, 1945–1953)
At least eight compilations have also been released.
d.